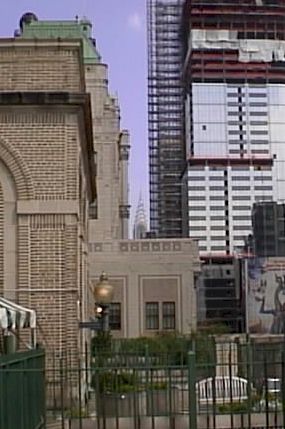 Beyond the New York Times Tower, the spire of the Chrysler Building is visible from the hotel's roof deck, which did not exist during the era of the Family Circle.
Added during renovation in the early 1990's, the 7,000-square-foot roof deck has a flourishing garden watered by the tenants.
The garden areas and catering facility are available to the public for rental for private affairs. Views from the windows on three sides are exceptional, "especially," said a Times Square spokesperson, "when there's snow coming down."

Morris stayed home
Morris Rubenstein had lost both his legs due to illness by about 1922, and thereafter, he was confined to a wheelchair. So he was not able to go to Family Circle gatherings once they had moved from his home. Carl Karben, Morris' brother-in-law, never learned to drive, but whenever he could afford it, he would rent a car and a driver. "My father and the driver would carry Morris to the car and take him for an outing," Shirley Karben said. [Readers may recall that Morris arranged passage from Russia in 1923 for Carl and his wife, Dora (Morris' youngest sister), and their three small children -- Artie, Phil, and Shirley. See Trying for a Better Life and also, Carl's Story.]
War came; gatherings ended
Morris passed away in June of 1940, and the Family Circle lived on. However, the advent of World War II dampened the impulse to socialize, so attendance shrank. People didn't want to go, Shirley said, "because their children had gone to the war."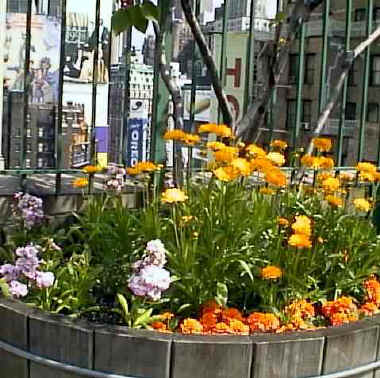 The neon view on 43rd Street
The top letters of the neon sign of Hotel Carter are
visible above the spring-blooming flowers added to the shrub in the wooden tub by Keith Lloyd, the Jamaican-born curator of orchids at the New York Botanical Garden in the Bronx. He was brought in to spruce up the rooftop plantings.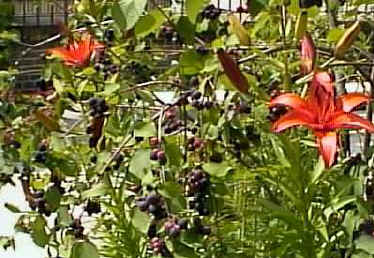 Service berries and Asiatic lilies
A bright orange Asiatic lily hybrid blooms in June amidst bushes heavy with "service" berries, which taste nothing like the delicious blueberries they resemble. "Service berries tolerate urban conditions well," said Lloyd, who explained that the shrub's name dates back to the Colonial period of American history. "In rural areas, people would stay on their farms during severe winters, and in the spring, the parson would ride his horse out to the countryside to minister to the people's spiritual needs," he said. "Just about the time the parson would service the people, the berries came out, and so they were called 'service berries.'"