Migrations follow expulsions

Jews have always done a lot of migrating. When the Romans expelled the Jews from Judea in 117 A.D., they migrated to Europe, and there they flourished until the Middle Ages, mainly in Spain and in the Rhineland. England's Edward I expelled its Jews in 1290, and they were not readmitted until 1600.

France kicked out its Jews in 1182, and then recalled and expelled them periodically thereafter until 1394. At that time, French Jews were kicked out until the French Revolution in 1789. Portugal expelled its Jews in 1496, and Spain expelled its Jews the same year the possibly-Jewish Christopher Columbus got his royal sendoff to the New World: 1492.
Kicked out AND robbed

In Spain, not only were Jews expelled, but their property was confiscated, too! This previously little-considered detail came to light on finding the photo below in a recent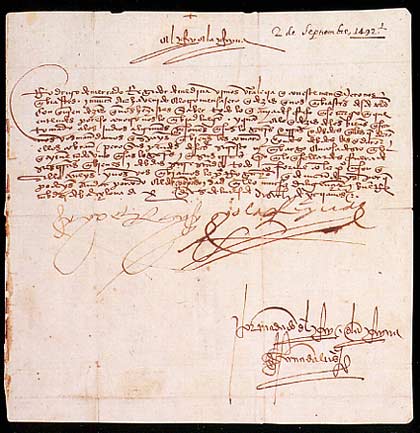 antiques magazine advertisement.

The subject of the document is "the confiscation of the property of the Jews," according to the caption of this "Letter signed by both Ferdinand and Isabella, King and Queen of Spain, to Rodrigo de Mercado, Governor of Medina del Campo."
The magnitude of our horror -- in learning that not only were Jews expelled, but they were robbed as well -- is matched only by our astonishment in having come upon an apparent news 'scoop.'

Eventually on view in NYC

How much did the dealer want for it? Or, as it turned out, how much did he get for it? Irvin Ungar of Historicana wasn't talking. The Burlington, California-based dealer responded to my E-mail by cell phone from Philadelphia, only to say that a donor had been found to purchase the letter for the American Sephardi Federation. That's one of the six organizations which comprise the new Center for Jewish History, in Manhattan. So, the document will be on view in New York City eventually. Remember, you read it here first [Nov. 24, 2002]. When the document came to Ungar's attention, it was in South America, he said, claiming that "nothing else like it is known to exist in the Western world." Now, back to our story.