Henry, our Yiddish journalist
Henry Rubenstein achieved recognition in the early days of the movement to improve garment center working conditions, and then in the ILGWU (International Ladies Garment Workers Union). He also contributed articles on union matters to the Jewish daily newspaper, The Forward, according to Shirley Karben, daughter of Henry's youngest sister, Dora. [The Forward's archives of the period are available in the New York Public Library, but are not indexed, and are in Yiddish. Archives of the ILGWU from the period are at Cornell University in Ithaca, NY.]

Visiting Henry
Larry Rogers, my father, told me that his Uncle Henry was "a nice guy," and that we visited him on our first trip to California. Sure enough, my mother's diary of our 1949 trip west reports that "on Thurs. 7/14, we drove thru downtown L.A. traffic and visited relatives...saw Henry, Fannie and Rena Rubenstein…" Oh, to remember...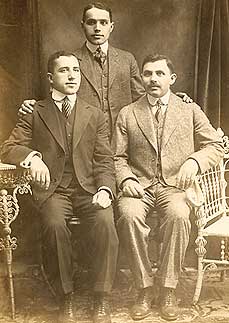 Hirschel's three American sons,
clockwise, from right:
Morris (seated), Henry and Jack.