Henry Rubenstein, Morris' brother, and Louis Rubenstein, Morris' uncle, were both skilled tailors, and they were both union activists.
Louis kept a gun
Louis, the youngest of Morris' uncles to come to this country, was an involved union organizer, according to Joan Herstik Rubenstein, who was married to his grandson, Phillip. She revealed in a telephone interview from her home in Van Nuys, California, that Louis was said to have kept a gun for protection again thugs, who were routinely hired by business owners to fend off unionization.

The roaring '20s
In the '20s, the unionizing scene was like a gangster movie, according to Joan. The gun, she said, was handed down from Louis to his son, Abe ("Ruby"), and then to Ruby's youngest son, Phillip, who passed away in 1993. "It's probably still amongst his things," Joan said. No mention was ever made of Louis having used the gun.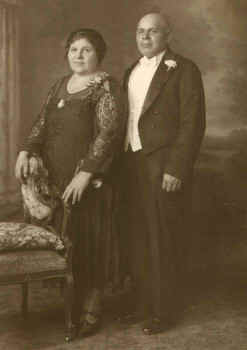 Louis and Sarah Rubenstein posed for the photograph above on October 29, 1927, the day their son, Abe ("Ruby") and Ceil Hirschoff married, according to Anita Rubenstein Silverman, who is the widow of Ruby's and Ceil's older son, Arthur.